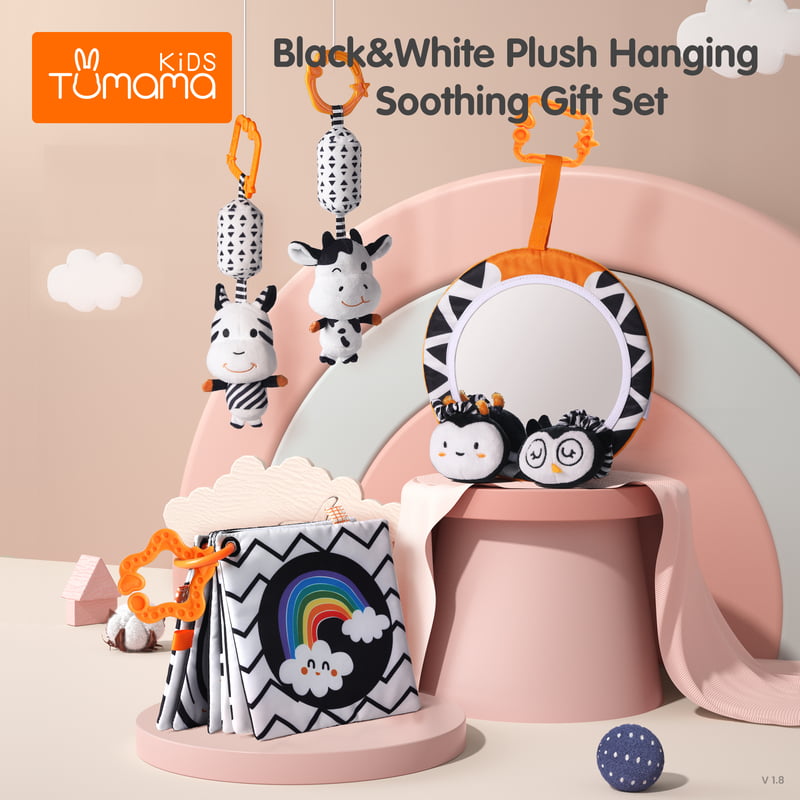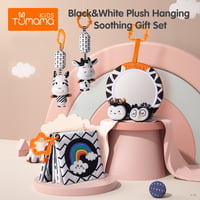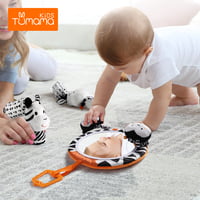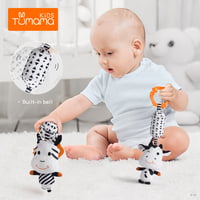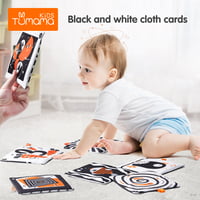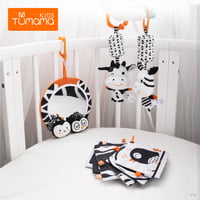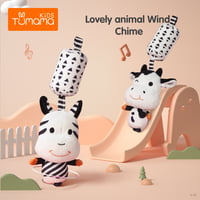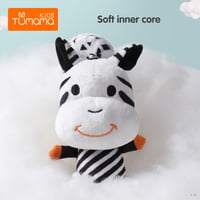 Rattle unique toy set black and white- set of 4
Set of 4 unique Black and White toys which instil interest and curiosity in infants and children alike. Educational yet fun toy rattle set for cribs, strollers and handy fun on-the-go.
1: Mirror can Attract Baby's attention, perfect tummy time mirror toy. Large true-reflection baby safe mirror engages baby's developing vision and encourage baby self-discovery. Has additional 2 hanging animals.
2. 2 animal Rattles are made of premium quality polyester fiber and PP cotton, nice texture comfy to grasp. Built-in bell and crinkle paper, shake and pinch for sounds.
No deformation no fading after washing, long lasting toy, easy to keep clean.
3. set of 6 fabric black and white book sheets for education and color recognition.
4. This versatile baby toy set can be used as rattle, windbell and easily hung in the stroller, crib or simply play by itself.
Original illustration design, cute and unique cartoon animals of cow and zebra.
Perfect to promote the development of vision, touch, auditory sensation, cognition and imagination.
5: Black And White Design. Studies have shown that babies aged 0-12 months are a critical period for black and white vision. this Mirror made by black and white Plush best for baby .
6 : Safe and edible material, the baby can use it with confidence.
7: Best for gift.
Overview:
Product Dimensions: 17 x 2 x 8 cm
Package Dimensions: 17 x 2 x 8 cm
Weight: 0.2KG
Shipping Weight: 0.2KG
Cautions:
store dry. Wash by hand and dry compeltely in shade.
Recommended Age: Suitable for 3 months and above