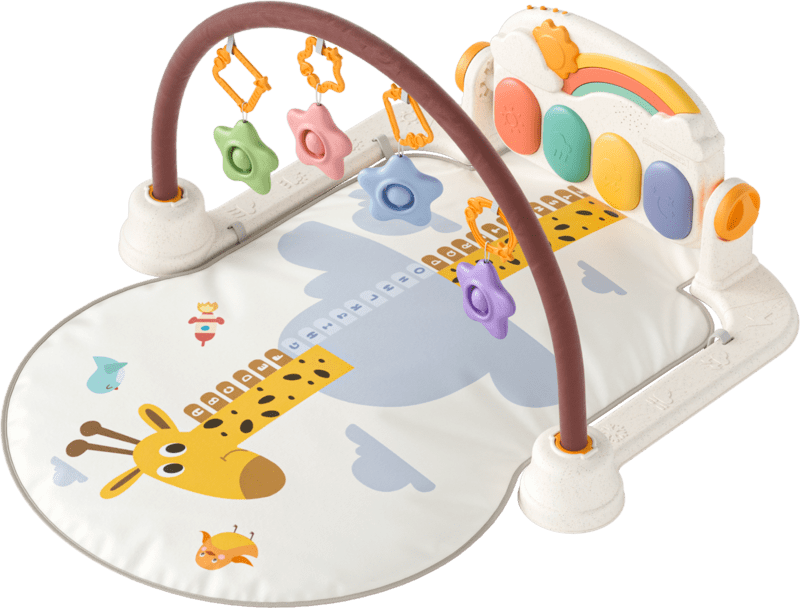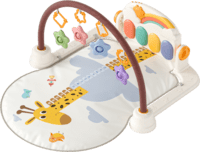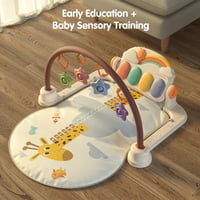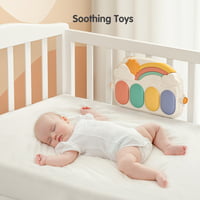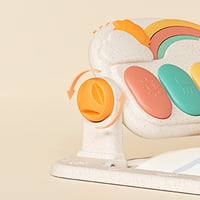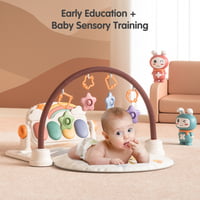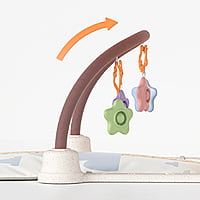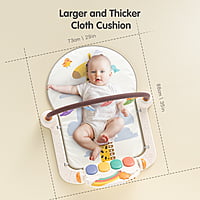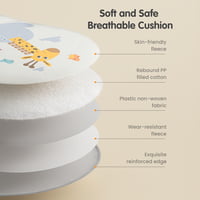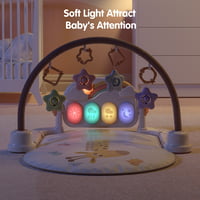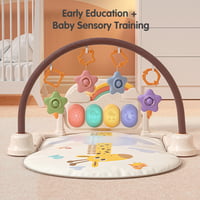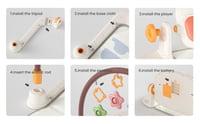 Tumama - Infant Musical Play Gym W/ Rattle- Giraffe
A play mat is an essential item for babies, from a few weeks up to around nine months. It provides a safe space to put baby down on back or tummy to enjoy some independent stimulation and exploration. Perfect gym playmat and activity toy for young babies and toddlers.
A great activity playmat with lots of interesting toys attached for babies to play with. The toys have different textures, make different noises and are different colors and the animal soft mat with nice interactive hanging objects for baby to reach and pull,play with, great lights and music toy too.
Safe and Comfortable Material- The baby gym play mat is made of soft material, which can bring a soft touch to the baby. Safe and soft materials make your little one feel comfortable play on the fitness mat. The most suitable thickness makes the mat more breathable. The mat is easy to washable, wipe and clean which is good for keeping hygienic. A good choice for babies and toddlers. Recommended for Newborns +.
Wireless Remote Control- This educational toys mat support connection with devices. Once connected wireless, the piano can be used as a speaker so you can play your favorite music controlled by your phone. Please note that in order to prevent your baby from accidentally touching the volume button and getting hurt by the loud volume, we set the volume to two levels, both of which is relatively in a low voice.
Easy to Assemble and Take down- Special design makes assembly and take down easier. It can be installed or disassembled in a short time. All parts are easy to assemble. The upper arch can be removed from the gym mat, used as a basic play mat. The baby toys can also be easily removed and hang with other toys that the baby likes. All of these make the mat convenient to store and carry.
Promote Early Development- This musical baby gym playmat is designed with a rotatable and movable piano, with multiple functions for the early education, improve your baby's motor skills, sensory perception, curiosity and discovery. A game arch with 4 hanging rattle can stimulate color recognition ability, train the grip and enhance their gross motor skills, also help to develop hand-eye coordination. This is a good toy for the physical and mental development toy for your newborns.
Best Early Educational Toys Set for Baby- The baby is full of strong curiosity about new things, so many activities that have been very well thought out to grow with the child. This gym play mats music set designed to promote cognitive, visual, sound accomplishment and motor development from newborn to toddler. From tummy time to sit and play. That would be a great baby Christmas ,Holidays, Birthday, Halloween, Thanksgiving, New Year gift. Lasting fun for infants to young toddlers.
Overview:
Product Dimensions: 43 x 29 x 17.19 cm
Package Dimensions: 43 x 29 x 17.19 cm
Weight: 2KG
Shipping Weight: 2KG
Cautions:
All ages must always use ONLY under Adult Supervision.
Store dry. Wash by hand and dry completely in shade.
Recommended Age: Suitable for 0 month and above