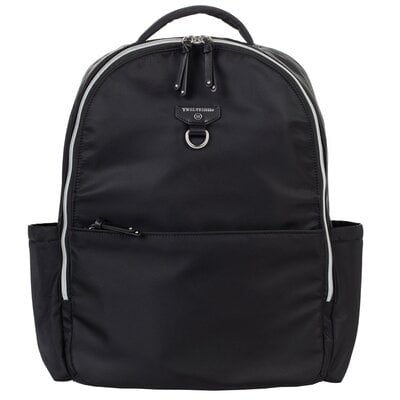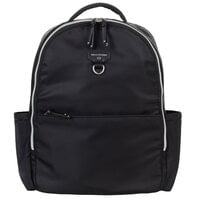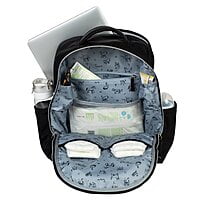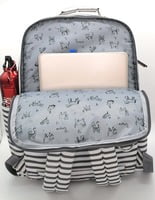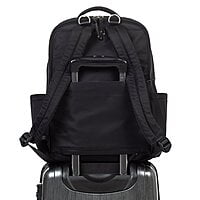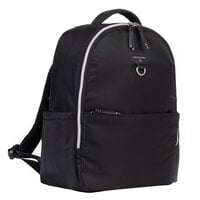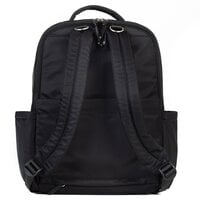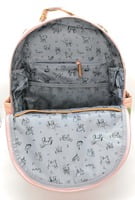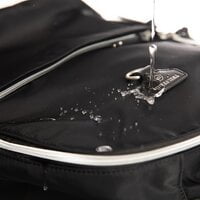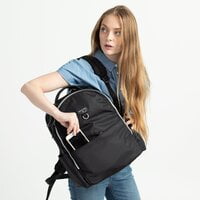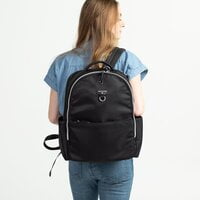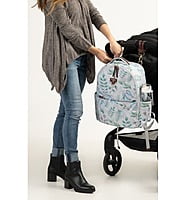 OTG Backpack with Laptop/Tablet Pocket - Black
Designed with multi-taskers in mind, our On-The-Go Backpack can be carried for any occasion, such as family outings, work functions, and travels. What's Unique is the backside has a zipper pocket with an opening on the top and bottom, to be used as a sleeve to fit through luggage handles.
Perfect Bag for Travelling or for a long, busy day out.
Water-resistant Coated exterior fabric
Exterior Fabric Polyester
Fabric is easily wipable so do not need to worry about stains and spills.
Matching 100% Vegan leather trims.
1 front wide zipper mommy pocket comes with a long key leash for storing essentials easily like phones, wallet, keys etc.
2 insulated pockets on either side to keep sippers and bottles handy.
Padded and adjustable shoulder straps.
The bag comes with a fully padded laptop sleeve with separate opening and an invisible zipper.
The backside has a big and wide zipper pocket.
This pocket can open from the top and the bottom and become a Travel-friendly sleeve used to fit through luggage handles.
Underside of the bag has metal feet so it does not touch the ground and prevents getting dirty.
Double Zipper Pulls with smooth buttery high quality zippers.
Once you unzip the bag, you can bend the flap open outwards to get easy access to the contents of the bag.
Wide Grab Handle on top with Vegan leather detailing is useful to pull the bag out of the car if baby in one arm already.
May be used by Fathers and Mothers due to its neutral color/ design.
The D-rings at the back of the backpack allows the bag to be attached to a stroller using our Stroller Clip Set (sold separately).
Multiple interior pockets and compartments for maximum organization.
Great printed Lining with animal print, this lining is Polyester, wipable, so easy to clean.
2 roomy Slip pockets inside with vegan leather trim edges.
Center compartment for bigger articles/ clothes.
2 elastic side pockets on the inside of the bag for keeping bottles upright and easy to access.
Mesh compartment made of high quality mesh so things don't get caught while pulling out, also you can easily see what is inside it.
Zip Pocket inside the bag for putting away any small items safely.
Free of harsh chemicals such as BPA and 100% PVC Free.
Product Dimensions: 30.5 x 43.1 x 17.1 cm
Weight: 0.78KG
Cautions:

Care Instructions: Machine washing not recommended as all products are trimmed in Vegan leather
Spot clean with a wet cloth and a dab of detergent and let it air dry.