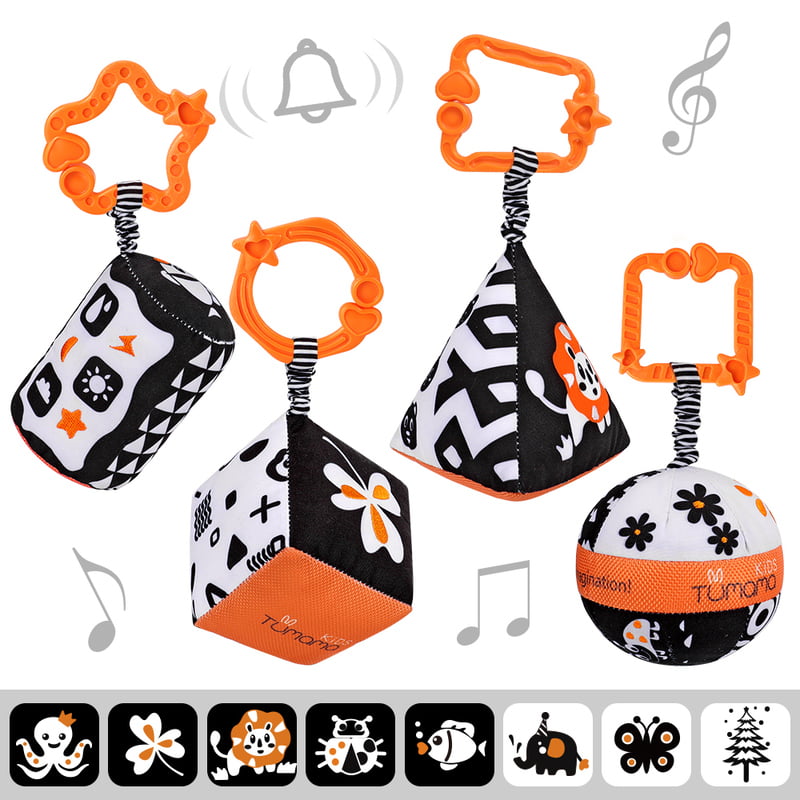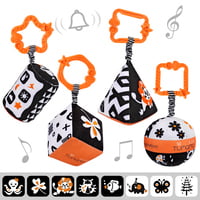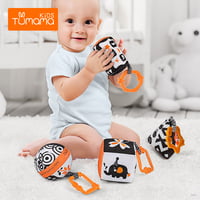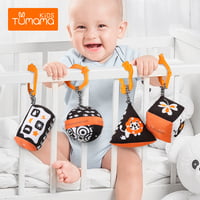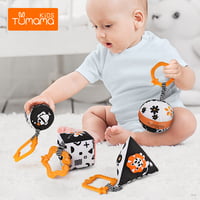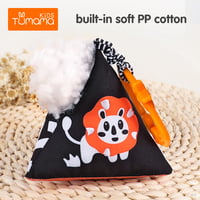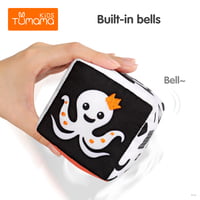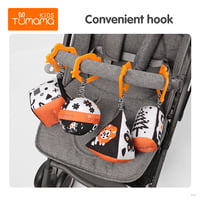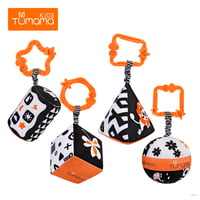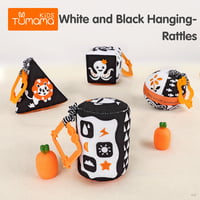 Black & White Hanging Cloth Rattle Set Of 4
OUR SOFT RATTLES DEVELOPED BY EXPERTS- Babies are born with blurred vision which gradually increases over a period of 3 months .black - and - white pictures or high - contrast patterns helps stimulate development in the retina and the optic nerve. Our baby rattle is equipped with stripes, bull's - eyes, spirals, curves, shape and very simple animal and plant designs, all of which will aid visual development in the early stages.

THIS GIFT IS INTENDED FOR YOUR 0-12 MONTHS BABY. This 4 different shape rattles are very soft. It is an interesting mobile with highly contrasting colours and simple patterns, gentle sounds that are a wonderful way to stimulate important key skills, like early vision, Sensory and Fine Motor Skills, sensory touch and feel texture, Hearing and Making sounds.

WE KNOW YOUR BABY SAFETY IS MOST IMPORTANT. So we use eco-friendly material to make it, all designs are safe, and made from soft material, no sharp edges or objects used. And all of them are U.S. ASTM F963-17/CPC certified.

ENJOYABLE FOR MOM, DAD AND BABY! The high contrast black and white colours aid in the development of baby's visual and audio development, which makes a soft soothing jingle by a gentle shake and pull.

MULTIPLE POSSIBILITIES FOR ATTACHING: baby may play with these infant toys on the floor, or hanging them onto the crib, stroller, you can fix them anywhere by the hooks freely, or remove these hooks and just let the baby play with these cube blocks freely.
Tummy time play rattle helps strengthen baby's leg and arm muscles to prepare to crawl.
Aside from preventing a flat head, this sensory baby rattles can also delight brain development and enhance hand-eye coordination, Suitable for use in tummy time or in a sitting position and encourages parent - child play interaction and joint activity.
The 4 rattles have a small metal bell inside the hollow interior.
See the world through your baby's eyes. Babies' eyes are a window to the world - but they're not too clear at first, That's why black/white & bright toys are so important. Seeing is Discovering.
As your baby's eyes are developing
They can see high - contrast patterns best, Bring the world into focus by surrounding your baby with black , white & bright colors.
Overview:
Product Dimensions: 18.5 x 17 x 9.5 cm
Package Dimensions: 18.5 x 17 x 9.5 cm
Shipping Weight: 0.04KG
Recommended Age: Suitable for 3 months and above